First Kangaroo Valley poetry and story slam
Yesterday, special guest Slam Poet Lorin Reid and I shut ourselves into the Kangaroo Valley community hall with a bunch of young adults (aka teenagers) to conduct a writing and performance workshop and the very first Kangaroo Valley Poetry + Story Slam. In short – success: our group of 9 wrote great words and performed them beautifully. But who won?
And the winner is…
The stakes were high: at 10am they came in and sat in the circle space. I pointed to the microphones towering above us onstage. 'That's what you're aiming for today. No pressure.' I hoped my smile conveyed I really did mean that. Then Lorin Reid performed a poem for them. It sank in. At every checkpoint – You still want to perform? YES! You still want to have scoring? YES! — their focus remained on that goal. And they all kicked it.
It was a close thing, this slam, featuring writers from Kangaroo Valley, Tapitallee, Nowra and Sydney. In the end, Claire Honeywood scraped just ahead of Jesse Oke-Turner to take out the slam prize — a book voucher and, offered in response to the quality rhymes on display, the opportunity to present her work at Wollongong's regular monthly night. Congratulations Claire and Jesse! These are definitely writers to watch.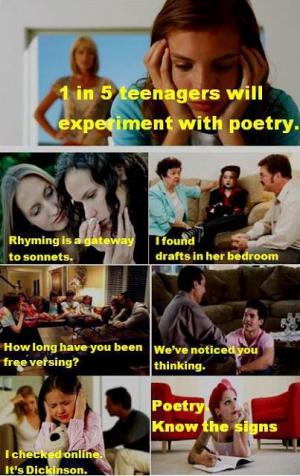 As any writer knows, the performance or publication is over in the blink of an eye (that was my set/my launch – my turn?) and it's the process and the words that count. As Lorin Reid made sure to remind us, and as has become the Australian Poetry Slam motto: the points are not the point; the point is poetry. We heard great words – microfiction and poetry – from Isabella and Gabriel, tied on third place, and from Oliver, Michael, Daisy, Lauren and Benton too.
So, some fresh converts – or as Russell Jones has it (the meme above): addicts. I love this feeling: when 'closet' writers get out their words and blow me away. It must've felt good for them too: there was lots of cheering, and even a victory lap.
Massive thanks go to Lorin Reid for coming all the way from Wollongong, and to Music on Hold who donated the sound equipment (and thanks for the interwebs tech chat too).